Travel and Change of Place Transmits New Vigor to The Mind
Jay Meistrich is the co-founder and CEO of Moo.do, the task manager for everything, bringing data into one consistent interface to manage everything in your schedule.
Meistrich left his job as a UX and input devices researcher at Microsoft to start Moo.do while traveling the world. Meistrich traveled to 45 cities in 20 countries, three Disneylands, and one bunny island. He worked 50 hours a week building and launching the startup while somehow fitting in seeing and experiencing new and exciting places.
Experiencing The World While Working with Passion
"Digital Nomad" is a growing community. They are the software developers, designers, writers, journalists, engineers and all sorts of people who share the same passion at work and live an independent lifestyle.
To build a company, Meistrich believes that living the nomadic lifestyle is the best way to do it. Building an ambitious startup like Moo.do, Meistrich states that its more inspiring traveling rather than sitting at a workplace. Also because he believes that by travelling one gets to be productive as you have a stable and focused mind.
It Is Not the Size of The TV That Matters, The World Is Much More Interesting Than What's at Home
Meistrich looked far beyond than his working space back in Microsoft. Meistrich disliked the idea of 9-5 job, he wanted to explore the world while the sun was still blazing hot, instead of wasting the daylight! He wanted to experience new cultures and food rather than being trapped in the neighborhood around his house.
Leaving footprints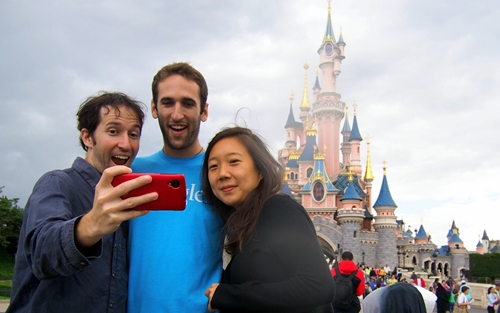 Image Credit: camnews
He enjoys the feeling of constantly being surrounded by new places, people and experiences. Meistrich found himself hugely productive due to his surroundings and the effects of his mind was becoming prominent as ideas started flowing better.
Having figured out the pattern, he left San Francisco a year ago, fully committing to a nomadic lifestyle. And this time it feels like he figured it out. "I'm happy, productive, meeting great new people, learning about real global problems to solve, and I successfully launched Moo.do."
Exploring Rich Cultures
"I now have friends all over the world whose life experiences are very different than mine. They bring fresh perspectives to my ideas. I'm learning about the real problems that affect the world on a global scale, which will make me into a better entrepreneur in the future." Meistrich
Travel is an Investment in Yourself..
Featured Image Credit:  Microsoft